"Monster High"
Lisi Harrison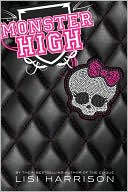 5
Pub. Date:
September 7th, 2010
Pages:
255
Publisher:
Poppy
Synopsis:
From Lisi Harrison, the New York Times bestselling author of The Clique and Alphas, comes a new series with a fresh twist on high school, romance, and the "horrors" of trying to fit in.
The monster community has kept a low profile at the local high school, but when two new girls enroll, the town will never be the same. Created just fifteen days ago, Frankie Stein is psyched to trade her father's formaldehyde-smelling basement lab for parties and prom.
But with a student body totally freaked out by rumors of monsters stalking the halls, Frankie learns that high school can be rough for a chic freak like her. She thinks she finds a friend in fellow new student Melody Carver-but can a "normie" be trusted with her big secret?
I have to admit that this book didn't really appeal to me because I was never interested in reading any of Lisi Harrison's other books. The only reason I read this book was because it was on audio book and I had heard good things about it. After being so skeptical I am shocked to report that I LOVED "Monster High"! The book was funny and the characters were interesting. Even characters I thought I would hate grew on me once I learned more about them. They all had more depth than being beautiful, bitchy, or a paranormal. I think my favorite character had to be Frankie. I didn't always agree with her actions and knew she was going to cause trouble, I knew she was only doing what she felt best. I found it very brave that she was willing to put herself out there whether people liked it or not. I also liked how she was so into pop culture and had her own catchphrase. She just had a unique style and personality.
I was also presently surprised with the world that Lisi Harrison created. It was somehow realistic even though there were monsters everywhere. She creates her own monster history that is entertaining and adds some believability to the story. I loved how the monsters were able to mix in with humans and found tricks to hiding their true identities. I also have to say I like how gung-ho the school got into all the monster drama that started to unfold. The love stories were pretty expected, but they were still entertaining. My favorite thing about this book was how it was all about identity and being true to yourself. I usually struggle with books that have multiple perspectives, but I really enjoyed seeing how Frankie's and Melody's worlds collided.
I highly recommend this book to readers who enjoy paranormal books, especially those who enjoy humor. "Monster High" reminded me of something Meg Cabot would write. It is definitely worth giving a try and if Frankie or Melody don't suck you in at the beginning then at least you gave it a shot. Especially if you are a person who enjoys monster movies or classic horror books. I totally got a kick out of seeing all my favorite monsters as teenagers. I will definitely read more in the Monster High series, but I'm still unsure about reading"The Clique" or "Alphas"... I might come around eventually though.